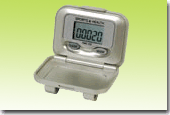 Pedometer is ideal for walkers, hikers and joggers.
Digital pedometer DMC-02 is easy to use and LCDdisplay makes it easy to read as you exercise. During a walk, hike or jogging, if you want to change a unit, Please open the cover and just push
the MODE button and you can check your consumptive calories,
distance (km / mile), and step counter.